Meer kinderen slecht zichtbaar in verkeer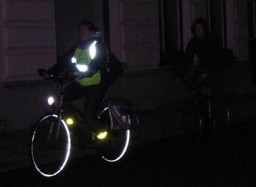 (NL+Eng version)
In Nederland vinden 23.000 verkeersongevallen per jaar plaats in de leeftijdscategorie tot 12 jaar. Hiervan houdt een aantal van vijf tot zeven op de honderd blijvend letsel. Dit betekent een aantal van 1.600 jeugdige verkeersslachtoffers met blijvend letsel per jaar en zelfs 9 dodelijke slachtoffers in de leeftijdscategorie tot 14 jaar.
Volgens het CBS is er de laatste jaren zelfs een stijging waar te nemen, voornamelijk veroorzaakt door de "donkere maanden" november tot en met februari. Een groot deel van het aantal verkeersslachtoffers wordt veroorzaakt door de beperkte en slechte zichtbaarheid van onze kinderen in het dagelijks verkeer. Kinderen zijn kwetsbare en onervaren deelnemers aan het verkeer. Ervaring leert dat ongeveer de helft van het aantal ongevallen plaats vindt van en naar school. Verbetering van verkeersveiligheid rondom scholen heeft al jarenlang de aandacht.
Bron: CBS
In the Netherlands, 23,000 traffic accidents per year occur in the age group up to 12 years. Shall mean a number of five to seven hundred permanent injury. This means some 1,600 young road victims with lasting injuries per year and even nine fatalities in the age group up to 14 years.
According to CBS, in recent years, even an increase observed, mainly caused by the "dark months" November to February. Much of fatalities caused by the limited and poor visibility of our children in everyday traffic. Children are vulnerable and inexperienced participants in traffic. Experience shows that about half of the number of accidents taking place to and from school. Improving road safety around schools has years of attention.
Source: CBS