Reflective paint you can spray or real reflective solutions?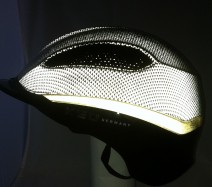 Reflective paint you can spray onto your bike, clothes, helmet, whatever. It was trending topic on social media, and admit, it looks effective and efficient. Buy the spray for 18 eu for your clothes, or 25 eu for hardware, spray it and you will be visible in the dark. Would life be that easy?
If you're looking for a short term expensive solution without any demands, the answer is yes. The producer himself uses in his product descriptions words as "light reflective", "non-permanent", "can be removed by washing". So what do you expect?
Better alternatives, cheaper and real solutions to be more visible in the dark? Plenty. Like the permanent real reflective helmet. Be smart, be safe, be visible.