You need a reason to wear a high visibility safety vest?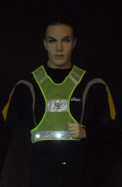 Safety vests play an important role in keeping workers safe. By promoting visibility, safety vests keep emergency personnel and highway workers safe from drivers on busy highways. Safety vests are also increasingly popular amongst runners and bikers to make themselves more visible to other road users.

Be seen, be safe
When most people think of safety vests they think of construction workers or crossing guards. These and other jobs that require motorists to clearly see workers are usually where safety vests are seen most prominently. There are many great uses for safety vests outside of work however. Most people may not even realize they have a need for safety vests until they experience a close call of their own.
Night Time Safety
Even the most conscientious drivers benefit from seeing pedestrians at a distance. Wearing a reflective safety vest -even better with active built in LED lighting- while walking, jogging or running at night is a great way to ensure motorists can see you clearly. This is especially important if you are cycling or walking a dog because motorists who can see you will tend to give you more room when passing.
Cycling in inclement weather
A safety vest is a great tool to keep a cyclist safe. On long rides a cyclist can be caught miles from home when the weather makes an unexpected shift. Whether dealing with rain, snow or thick fog, it's important to have some high visibility garment that can easily be worn for safety.
Shoveling Snow
Winter time means shorter daylight hours and rainy and snowy weather. Under these conditions it's important to let motorists see you at a distance so they have time to react. Because driving conditions require additional stopping distance and reaction time. Safeways offers a range of products that makes you seen, like reflective safety vests, high visibility safety vests with built in flashing LED lighting, LED power belts and 360 degrees reflective helmets.