Be predictable, cyclists are hard to see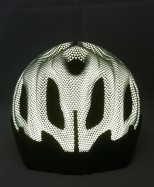 We all know there's a lot of bicyclists out there that behave badly. And sure, that's true for both drivers and cyclists. We all know to look out for people who are more vulnerable than you are and not just for vehicles that seems a threat to you.
Be predictable! Cyclists are hard to see, even with lights and bright colors. Yet you'll end up missing them once in a while while driving, especially in bad weather. Cyclists are always looking out for cars, ready to react to them. But when cars "do things" a cyclist can't anticipate, that's when trouble happens.
For good reason, most country's requires bicycles operated at night to be equipped with front and a back light. Never ride at night without lights, we all being thought.
Obviously, the car-bike collision rate is several times higher at night than during daylight. Even when lighting is being equipped, we suggest protective head gear too! Bike helmets are designed to prevent catastrophic, life-threatening blows. And a reflective helmet has even more added value: 100% visibility as a cyclist. Our video shows what the effect of a reflective helmet is: http://youtu.be/eV6vF089APQ
Our helmets are beauties, well designed. They're light, aerodynamic, comfortable and full of vents.
Why not jump over to our cycling gear and check out our goods?