How visible are you as a runner?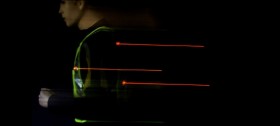 Are you going to work out in the dark? Or working? Visibility in the twilight or darkness is vital. The numbers do not lie: in plain dark clothes visibility is limited to about 20 meters and ordinary light clothing up to 50 meters in dark conditions. Most reflective and hi-viz clothing expands this to about 400 meters, but a light source are directed there. Optimal is wearing Safeways proactive clothing and / or materials with LEDs. Then you are already visible at about 1000 meters, even though there seems no light on you (for example, on a winding road).
Do not wait for an accident but make proactive safety of yourself and your loved ones!
A car driving 50 kms per hour, can't stop in time if you are within 20 meters in the dark wearing dark clothing (braking distance: 26 meters). Light clothing is visible in the dark at 50 meters but the car, with a speed of 120 km per hour, has a braking distance of 102 meters. Would you really be visible, wear reflective clothing with LEDs: Shown on 1000 meters distance.