The best cycling helmet 2015 available at Safeways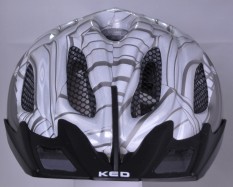 The Certus K-Star has been tested as the best cyclist helmet 2015 in Germany. For the test, the famous ADAC has all helmets purchased anonymously in local stores and online shops. The test winner was the model Certus K-Star, "combines the best ratings with a low purchase price" which was the conclusion of the Automobile Club. Safeways is patent holder of the reflective material that has been used for the production of this helmet.
For bicycle helmets a hard shell protects no better than a soft. This is the conclusion of ADAC, who has taken twelve helmets for adults under the microscope. Although there were no serious case outliers down, but cut all tested models with a hard shell with "satisfactory" from. The eight other, so-called micro-shell helmets, in which only a thin, deformable shell sits above the actual protection body, on the other hand received the rating "good". In the impact test, they reached good to very good damping values.
Clearly visible in the dark
The testers recommend when buying a helmet also to make sure that he is comfortable and is easy to handle. Therefore, also strongly recommends a try-before buying: Is the adjustment easy to use and can thus adapt the helmet to the head shape? When closed, the helmet straps must not be stripped back.
For optimum safety, the helmet should be clearly visible even in the dark and have a bright color as possible and feature large reflectors. After a fall, the helmet is absolutely exchange, even if it has no visible damage.
Tagged under:
ADAC
,
amazon
,
best bike helmet
,
Best buy
,
Best buy helmet
,
best cycling helmet 2015
,
best road bike helmet
,
best road cycling helmet
,
review best helmet
,
safe way
,
Safeway
,
safeways